Paul, co-founder of Coh&Co, is doing a tour of Europe starting from our home base in Copenhagen, Denmark. He is riding our newest model Siggi, a 20" wheel folding bike, which he was instrumental in designing. He is writing from his over 1,000 km journey documenting his adventures riding on Siggi!
Riding a new bike for touring always requires a bit of getting used to and having never been toured on a small wheeled bike before,  I was a bit concerned that it would be cramped and feel like a compromise. The truth of the matter is that, although I can definitely feel a difference between the large and small wheels, Siggi does not feel like a compromise. My design goal was to make something that rides like a touring bike and I feel like we have succeeded. 
We left Copenhagen and after a few kilometres, we hopped on a train to Sweden. I have around 30 kilos with me which is a pretty solid test of the bike. Camping gear for two, tent, and then clothing etc. builds up fast and – well,  I am not too good at trimming down. Having spent a fair bit of time at sea, I always like to make sure I have what I need to accommodate almost any situation and that seems to end up on the heavy side every trip. Two panniers in the back and a handlebar bag mounted on a KlickFix system is a very good combination and it works perfectly on the Siggi. 
After a ten-minute hop across the sound to Sweden on the train we hopped back on our bikes and went toward Trelleborg where we secured the overnight Ferry to Poland.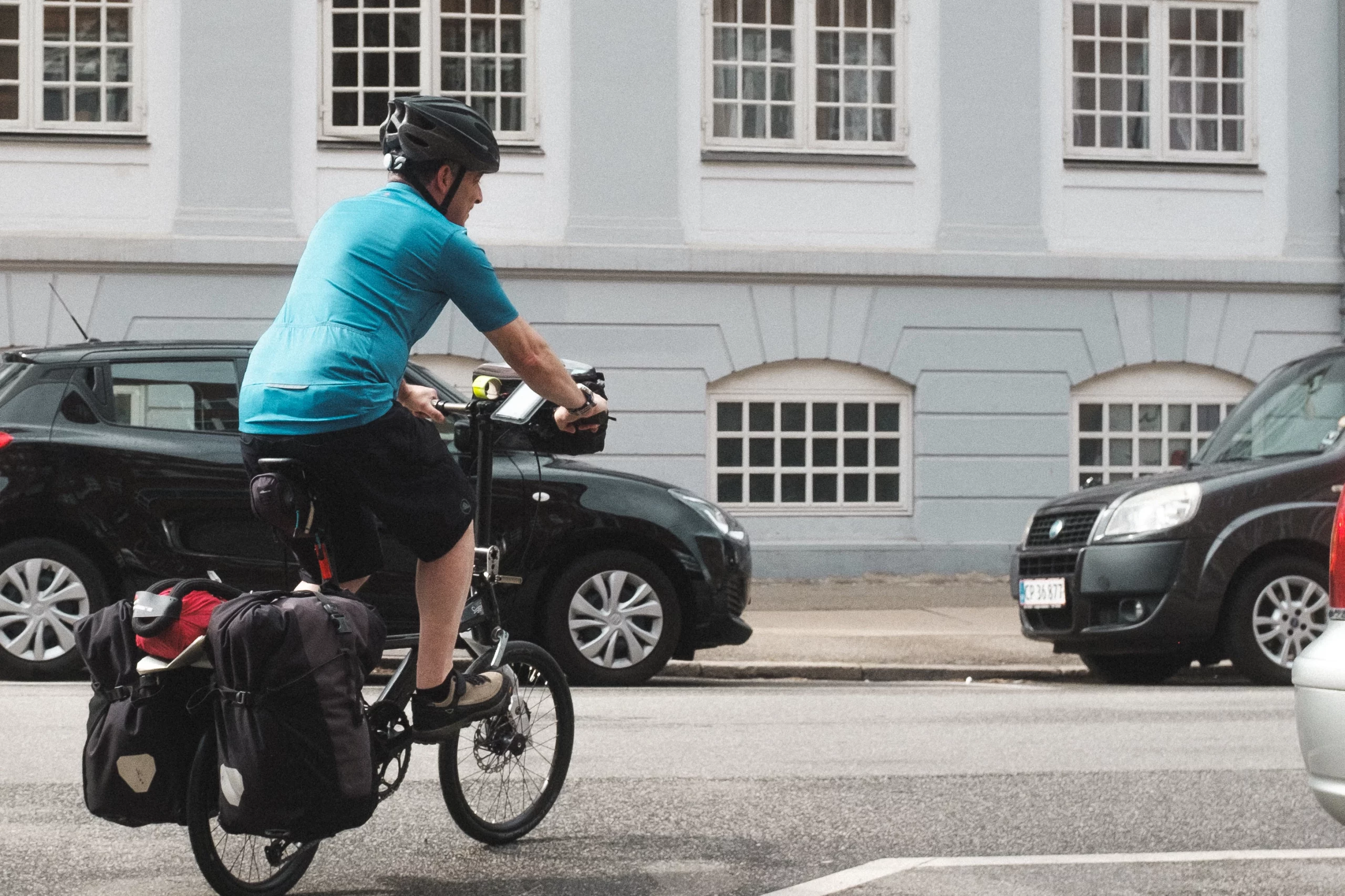 Our Ferry put us in at Świnoujście at 06:45 in the morning and when we went to get off the boat we discovered that Johan who was riding on a Vogel GF001 had a flat rear tyre. We limped to a petrol station and changed the inner tube and repaired the original so that it will work as a spare. Then we rode off towards Germany. After a bit of rain and several hours of meandering through the Polish and German countryside on the island of scenic Usedom, we got onto the last Ferry across to the Mainland. The Ferry had actually stopped running but we were so lucky that they could take us across anyway. In the middle of the sound, there is a huge steel structure that is the remains of an old railway bridge with an element in the middle that can be lifted to allow ships to sail underneath. Now the tracks leading to and from the middle section were gone so it is possible to sail around the structure. The story is that the retreating German forces blew up the bridge on the 18th of May in 1945 to prevent the advance of the Russian troops. The structure still stands incredibly intact as an eerie look into the past.
That evening we camped in Kamp which gave us the much needed chance to rest. Then, we proceeded in a strong headwind with a very intensive little rainstorm in the middle of the day. Currently, we have ridden less than 200 kilometers but the bike feels solid and after another easy day today we will see if we can't pick up the pace after Berlin. Siggi is taking care of me and I am enjoying its company in return.
Follow for more about Paul's adventure with Siggi! They still have a ways to go over these next couple of weeks. The ups and downs of this trip and how Siggi and Paul manage through the winding countryside, through towering cities, and across sprawling borders, will all be documented here.
Check out the Siggi campaign and get your very own Siggi by clicking the button below